Educause Panel: The First Steps Towards Institutional Analytics
Oct 19, 2023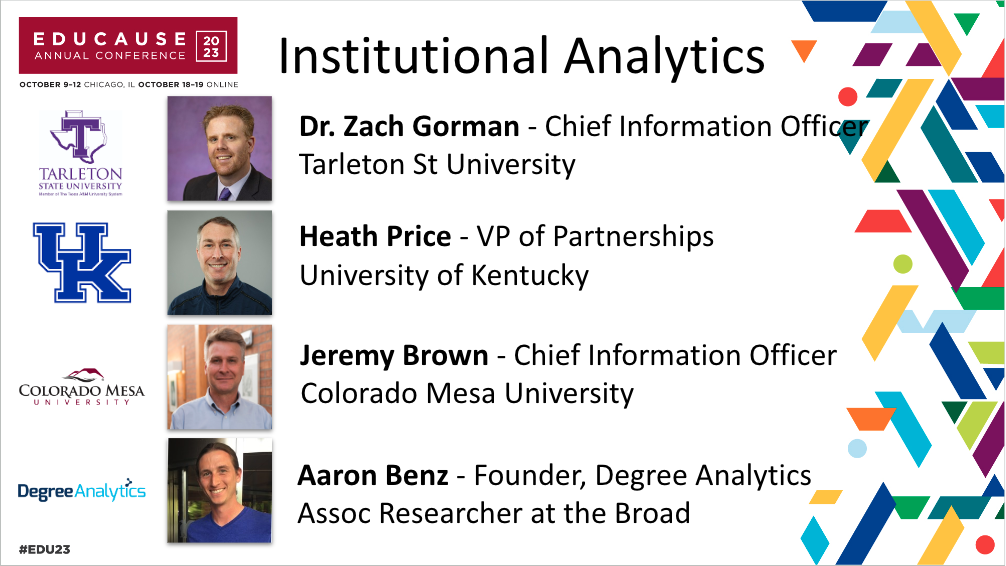 A Discussion of the Efficacy of Using Wi-Fi Data to Inform Campus Planning Initiatives.
A relatively small initiative to evaluate the use of campus computer labs grew into providing analytics to support a full-scale campus planning project by leveraging anonymous wi-fi data.
The impetus for the initial phase of analysis was based on the hypothesis that due to increased remote learning, BYOD, and other factors, the use of personal devices was driving down student use of on-campus computer labs. Concerned that this trend was resulting in unnecessary spending on unused equipment and software, anonymous wi-fi data was used to determine actual vs. expected utilization of the computer labs.
Further, LabStats data was incorporated to determine the actual use of software on campus-owned computers. The data supported closing some labs and reducing the number of workstations in others, resulting in significant reductions in IT costs.
The data and methods proved effective enough to warrant expanding the project to include evaluation of all academic spaces campus-wide in support of large-scale campus planning projects.
The use of real-time, anonymous wi-fi data identified three key takeaways:
Using real-time anonymous wi-fi data provides a more efficient, robust, & accurate model of space utilization than traditional surveys & anecdotal reports

Leveraging anonymous wi-fi data and LabStats can support data-informed decision-making and reduce IT & Facilities costs

Insights gained from wi-fi data analytics can be used to support large-scale campus planning projects and enhance institutional performance
Our panelists will share insights gained from projects to evaluate the use of campus computer labs and the expansion to campus-wide initiatives.
This is a longer version of our Educause Panel delivered on October 19, 2023. The full-length version is available below: